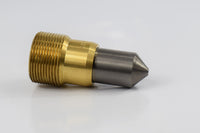 Tungsten Carbide Single Outlet 45 Degree Angle Sandblast Nozzle with Fine 1 1/4" Brass Threads
These Tungsten Carbide single outlet at 45-degree Angle Nozzles have a standard entry with 1-1/4″ brass threads. This 45-degree angle forward shooting nozzle can be used to blast clean in areas where a standard long venturi blast cleaning nozzle cant be used, e.g. behind angle irons on bridge work. They are extremely durable and are built for the most physically demanding operations. This tough angle nozzle will hold up well in tough site conditions. 
Works with any 1 1/4" NPS standard nylon, aluminum or brass nozzle holder

Manufactured from sintered tungsten carbide for long life and hardness

Made in The USA

Compact, light and durable 

Use to clean any hard to reach place, e.g. inside pipes, tubes & other cylindrical objects
Choose the correct size for your air compressor output in the drop-down box above.
| | | | |
| --- | --- | --- | --- |
| Part Number | Nozzle Number |  Orifice Size | Required CFM @90 PSI |
| UAM-2X1 | #2 | 1/8"  | 19 |
| UAM-3X1 | #3 | 3/16" | 43 |
| UAM-4X1 | #4 | 1/4" | 75 |
| UAM-5X1 | #5 | 5/16" | 125 |
| UAM-6X1 | #6 | 3/8" | 175 |
| UAM-7X1 | #7 | 7/16" | 240 |
| UAM-8X1 | #8 | 1/2" | 300 |