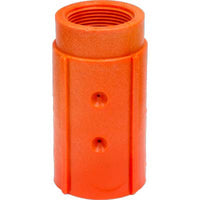 Standard Nylon Sandblast Hose Nozzle Holder Coupling For 1" Id Hose He-2-ny
NOZZLE HOLDER, NYLON, 1", 125 PSI MAX

Nozzle holders attach to the end of a blast hose and hold the blasting nozzle. During operation, the air pressure inside the blast hose helps hold the nozzle holder securely in place. To attach the nozzle holder, the blast hose must be cut squarely and cleanly, and the holder must be installed using the screws provided. When installing, the screws should penetrate the outer wall but not the inner wall of the blast hose.
 
This nozzle holder is for hoses with a 1" inner diameter (ID, which goes inside the nozzle) and a 1 7/8" outer diameter (OD, which goes over the outside diameter of the blast hose).